Accreditation
default
Get ready for DOK Leipzig. We can't wait to see you this fall!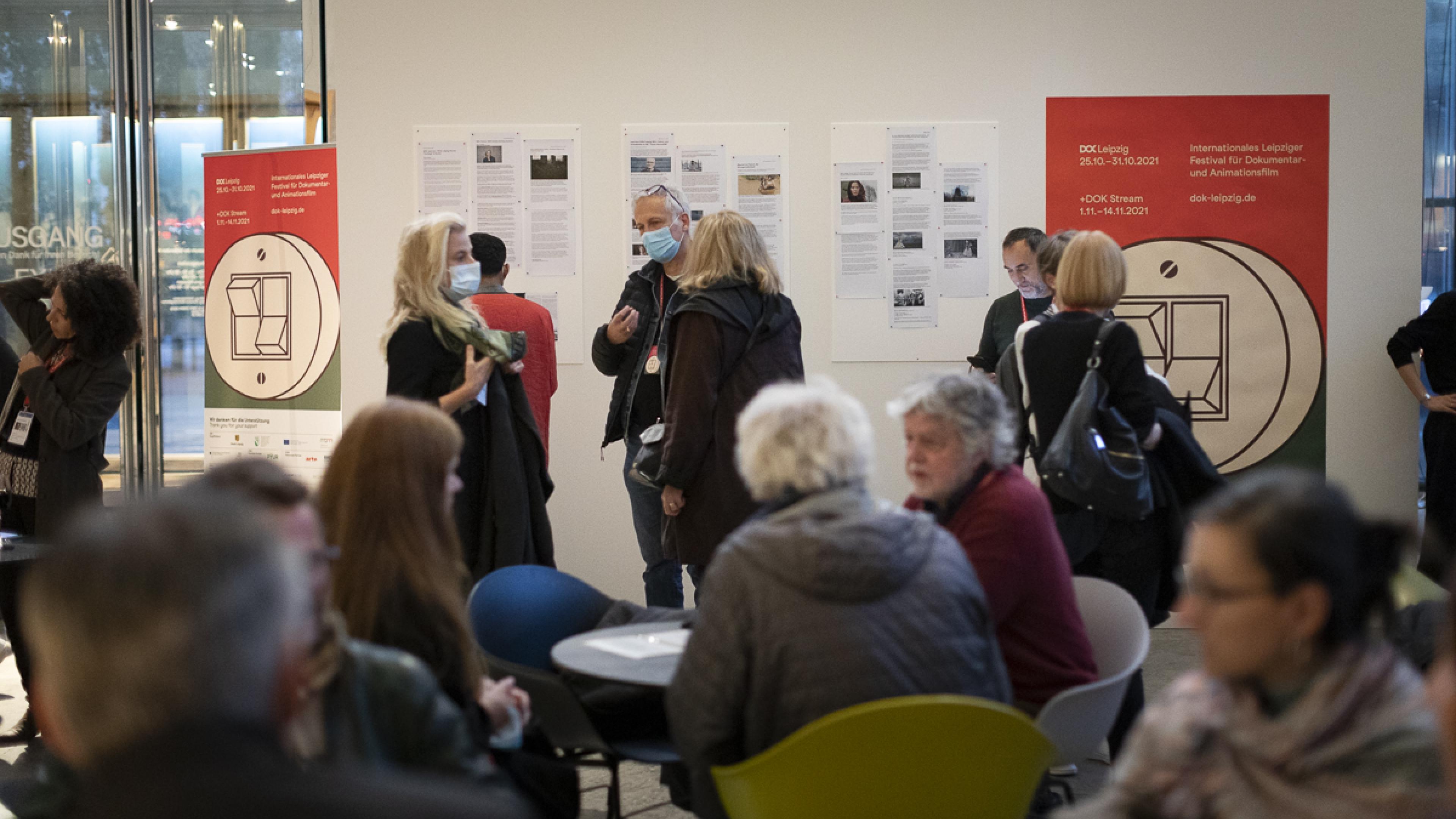 Industry professionals and students now have the opportunity to request an accreditation for our 2022 edition.
Register for your badge and receive exclusive access to our industry offers and networking events, film programme, talks and masterclasses. You can choose to participate onsite in Leipzig or online.
Deadlines
zitrone
—
Early Dove Accreditation
—
Last Minute Accreditation
Accreditation types
DOK Leipzig Film Programme:
Free tickets for on-site screenings of the entire festival selection including curated programmes
Online access to selected films of the festival programme including competitions, from 17 to 30 October 2022
DOK Industry Programme:
Access to insightful podcasts, live talks, project presentations, conferences, master classes, get togethers and lounges

DOK Industry Guide: our comprehensive guide of industry professionals to help you network, fund and circulate your new films and projects in development
DOK Leipzig Festival Catalogue (Print edition and PDF download)
---
Rates: 
Early Dove: 100 € / Regular: 140 € / Last Minute: 165 €
This accreditation includes all services of the "Festival / Industry Accreditation" plus access to the DOK Film Market Online Library with more than 200 current titles.
Limited to buyers from TV stations, cinema distributors and world sales as well as representatives of international film festivals, exhibitors and cultural institutes who want to acquire new films for their programme or line-up. 
Viewing access is available from 17/10/2022 to 30/4/2023.
---
Preise: 
Early Dove: 160 € / Regular: 200 € / Last Minute: 225 €
Are you a journalist and planning to attend and report about DOK Leipzig's upcoming edition? You can request your press accreditation from 22 August via our Press Area. Information on press accreditation will be updated soon.
Discounts
The discounts listed below apply exclusively to the regular rates. Various discounts cannot be combined.
Students registered for a film-related university programme receive a 50% discount on the on-site accreditation (70 €). Online accreditations and Film Market access are not available for students. 
Please note: In order to receive the student discount, a current student certificate must be uploaded in the accreditation form. All applications are reviewed individually. 
Note: The 50% discount applies to the regular accreditation only – it is not applicable to the Last-Minute-Accreditation. The fee for Last-Minute-Accreditation for students is 95€
Are you a coordinator from a film school or university and want to organise a group to attend and experience the festival together? Please get in touch until 31 August via akkreditierung [at] dok-leipzig [dot] de.
You will then have the opportunity to add or withdraw students from your group until 30 September. 
The accreditation fees can be invoiced on a collective invoice or paid by the students individually. Lecturers and coordinators need to pay the regular price for their accreditation.
In cooperation with selected professional associations we offer discounts for their members. More information will be announced through their newsletters. 
Should you be interested in receiving discounts for your organisation's members please contact us at industry [at] dok-leipzig [dot] de.
Participating professionals from the following countries will receive a 20% discount on all accreditation prices (except for the Early Dove discount and Film Market Access):
Afghanistan, Albania, Algeria, Angola, Argentina, Armenia, Bangladesh, Belize, Benin, Bhutan, Bolivia, Botswana, Brazil, Burkina Faso, Burundi, Cambodia, Cameroon, Cape Verde, Central African Republic, Chad, Chile, Comoros, Congo, Cuba, Djibouti, DR Congo, Ecuador, Egypt, El Salvador, Equatorial Guinea, Eritrea, Eswatini, Ethiopia, Fiji, Gabon, Gambia, Ghana, Grenada, Guatemala, Guinea, Guinea-Bissau, Guyana, Haiti, Honduras, India, Indonesia, Iran, Iraq, Ivory Coast, Kazakhstan, Kenya, Kiribati, Kosovo, Kyrgyzstan, Laos, Lebanon, Lesotho, Liberia, Libya, Madagascar, Malawi, Maldives, Mali, Marshall Islands, Mauritania, Micronesia, Moldova, Mongolia, Morocco, Mozambique, Myanmar, Namibia, Nauru, Nepal, Nicaragua, Niger, Nigeria, Niue, North Korea, Pakistan, Palau, Palestinian Territories, Panama, Papua New Guinea, Paraguay, Peru, Philippines, Rwanda, Samoa, São Tomé & Príncipe, Senegal, Sierra Leone, Solomon Islands, Somalia, South Sudan, Sri Lanka, St. Kitts & Nevis, St. Lucia, St. Vincent & Grenadines, Sudan, Syria, Tajikistan, Tanzania, Timor Leste, Togo, Tonga, Tunisia, Turkey, Turkmenistan, Tuvalu, Uganda, Ukraine, Uzbekistan, Vanuatu, Venezuela, Vietnam, Yemen, Zambia, Zimbabwe
Accreditation process
Step 1: Get started
When opening the accreditation form you are prompted to log in to your myDOK account. If you register for the first time you can create a new account in just a few steps.
Step 2: Processing your accreditation entry
After submitting the form, your accreditation request will be processed by our team. This might take up to 10 working days due to a high amount of submitted requests.
Step 3: Make the payment
Once your accreditation request has been approved, you will receive a confirmation email including a link to the invoice.
You can pay the accreditation fee online via credit card or PayPal.
Refunds and Cancellations
Should you have to cancel your onsite attendance you can change to an online accreditation or request a full refund until 30 September 2022. Please contact us at accreditation [at] dok-leipzig [dot] de.